Our Story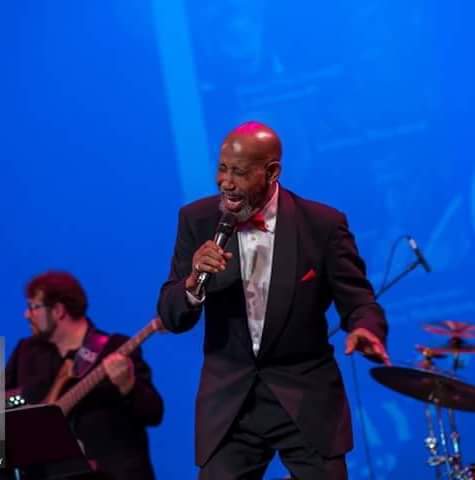 George V Johnson Jr, named Heir Apparent - "Next In Line" by the late Eddie Jefferson, "Father of the Art of Jazz Vocalese", career spans over 40 years.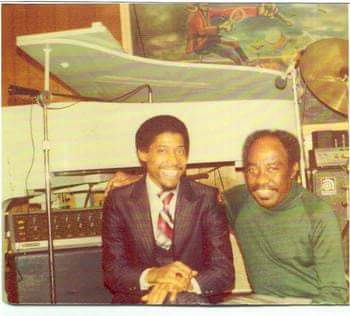 He was first mentored by John Malachi who gave him the stage name Your Majesty, Arnold Sterling, Shirley Horn, Eddie Jefferson,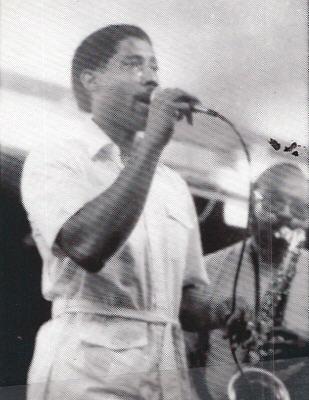 James Moody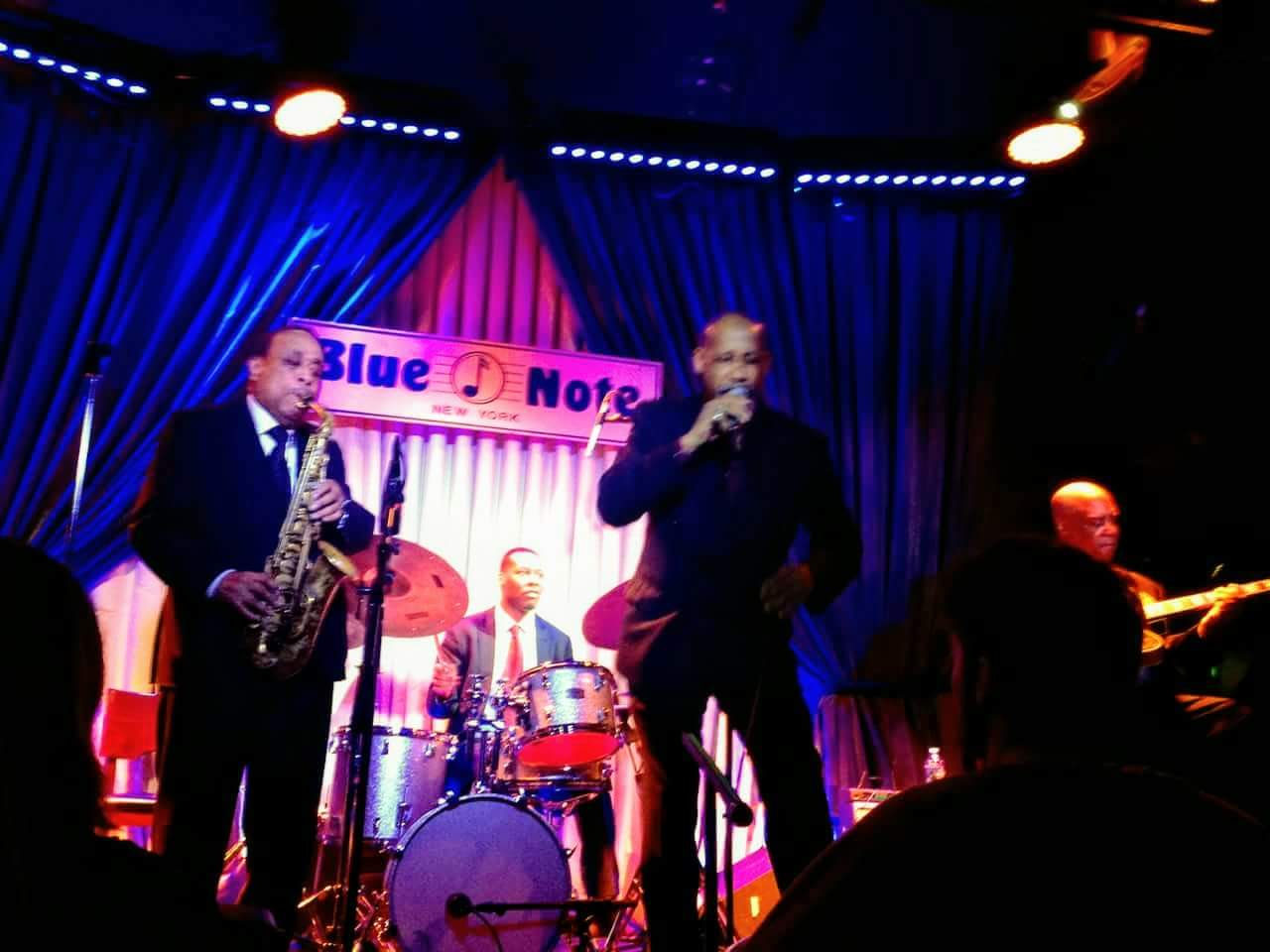 Lou Donaldson, also sharing the stage with Buck Hill, Richie Cole, Dizzy Gillespie, Woody Shaw, Jimmy Heath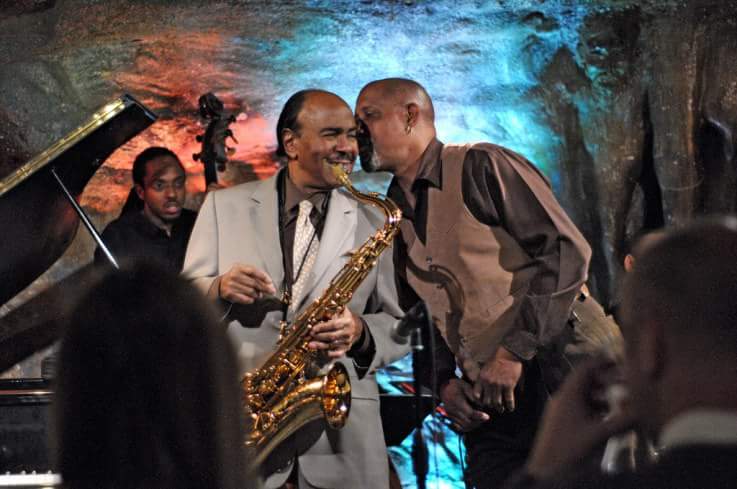 Benny Golson, Bobby Watson, Wallace Rodney, Randy Brecker, Marcus Belgrave, Kenny Barron, Mulgrew Miller, Harold Mabern, Kurt Lightsey, Roy Brooks and the Artistic Truth, David `Fathead` Newman, Frank Wess, Frank Foster, Clifford Jordan, Don Braden, Winard Harper, Don Sickler, Eric Alexander, Seamus Blake, Ron Sutton, Yaacov Mayman, Leonid Ptashka, Barry Harris, Ronnie Mathews John Hicks, Antonio Ciacaa, Raymond Angry, Arnie Lawrence found of the New School and more.


George was privileged to make his recording debut with the Legendary Pharoah Sanders on the LP Rejoice in 1981, featuring original lyrics to John Coltrane`classic "Moments Notice!

Since retiring from New Jersey Transit Rail as a Train conductor several years ago, Johnson's career is on the move.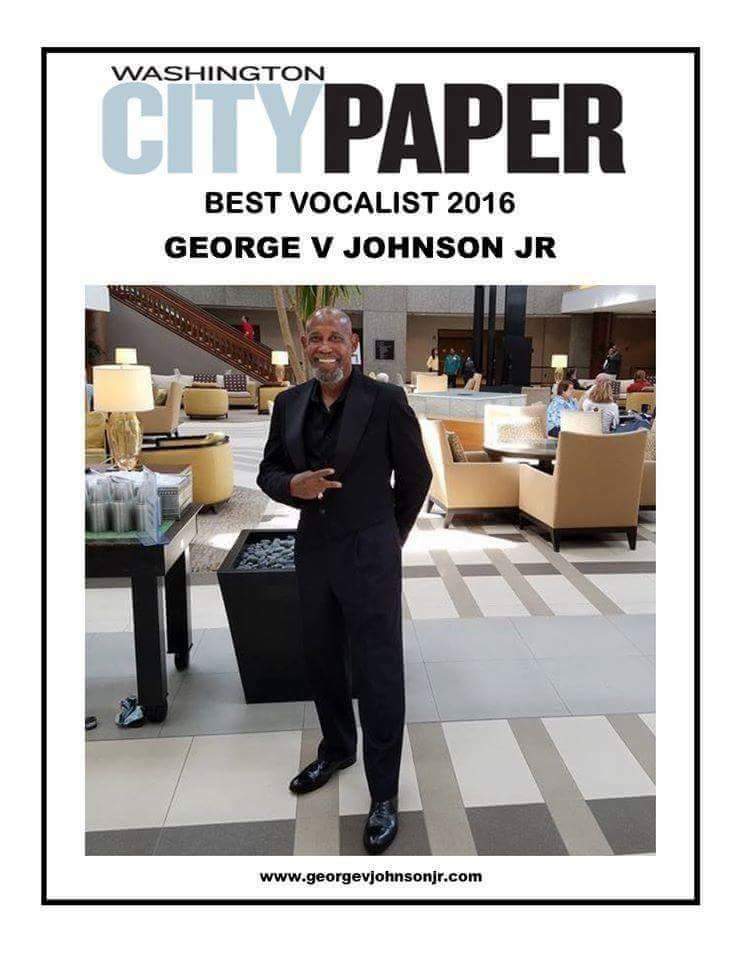 In 2016 he was named Best Vocals by the Washington DC City Paper.
His recent tours include: Montenegro with the Madeinnyintljazz All-stars performing for the President Filip Vujanovic, Denmark, Israel, Parma Italy, Kansas City - American Jazz Museum, Atlanta, North Carolina, Virginia, New Jersey, New York, Philadelphia and the DC Jazz Festival at the National Gallery of Art Sculpture Gardens entertaining more than 16,000 fans.
Vocalist, Lyricist, Actor, Playwright, Producer, Promoter, Consultant, Composer and Contributing Editor was born December 20, 1950 Washington DC. Attended Prince George's Community College and Howard University School of Fine Arts. Self taught and first exposed to music by singing and participating regular with church and school choirs. He listened extensively, and emulated records played by his parents while growing up in the household. (Gospel, R&B, Rock & Roll, Classical, Blues and Jazz).


At the age of 20 and the encouragement of family and friends, he seriously considered a career in music after realizing that he had a natural gift of writing lyrics , poetry and producing beautiful sounds with his voice. While listening to a radio broadcast about a Jazz Workshop being held at Bill Harris' Nightclub called the "PIGFOOT" in N.E. Washington DC, he met pianist great John Malachi who help to shape and guide his career for the next 15 years. This enabled George to sing and come in contact with many of the worlds' s finest musicians and recording artist. On one occasion he met the late Eddie Jefferson, Jazz lyricist, Hoofer and Innovator, who pioneered the art of Vocalese" (writing lyrics to improvised horn solo?s) . Jefferson set lyrics to James Moody's classic solo "Moody's Mood for Love", which was first Recorded by Clarence Beeks, aka "King Pleasure ". Years later the style was perfected by Jon Hendricks (Lambert, Hendricks & Ross):
His father's love for the music and record collection exposed him to a world of entertainers. George loved to listen and emulate Jefferson, Hendricks, King Pleasure, Babs Gonzales, Dizzy Gillespie and Joe Carroll, Joe Williams, Oscar Brown Jr, James Brown, Frankie Lyman, Sam Cooke, Marvin Gaye and many more. Later he had the rare opportunity to meet, study, travel and sing duets with Eddie Jefferson. This opened a whole new world that would shape his career for years to come. "THE MAKING OF A JAZZ SINGER"

 
He is considered by many as "Heir Apparent" to Jefferson's innovation and is one of the foremost practitioners of the vocalese style on the Jazz scene today. He first turned heads on his debut recording in 1981 with "Pharaoh Sanders" on the LP REJOICE and was credited with vocals and lyric on Coltrane's classic "Moments Notice ", later reissued on CD by Evidence Music


Throughout the 80's George was mentored and performed regularly with "James Moody & Lou Donaldson". Two of the greatest saxophonist in the history of Jazz. His close association with Moody led to many Local & National Live Radio and Television Broadcasts, Carnegie Hall Kool Jazz Festivals, Town Hall Tribute to Charlie Parker w/Strings arranged by Barry Harris, South Seaport Jazz Festival, clubs throughout NYC including: Sweet Basil, Bottom Line, 7th Avenue South, Village Vanguard, Village Gate, Grand reopening of Live @ the Apollo' Apollo Theatre, yearly Grant's Tomb, Jazz Mobile concerts throuhout NYC NJ, Phila. Wash DC., P.A., Indiana, Ohio, Mt. Vernon NY, Binghamton NY, Springfield Ma., & Hartford Ct.
Also an accomplished actor, he's appeared in the Soldier's Play, Mighty Gents, Hollywood Hussle, My Mark My Name, Garvey, Trials & Tribulations of Stagger Lee Booker T Brown, with Ricky Payton they penned the lyrics for "Santa"s Starship? and more.
In 1979 with Howard University, he Premiered in a 6 month European Tour of the Broadway Musical "RAISIN" and the "SOUL OF SOUL", playing sold out performances at Stat Theatre?s throughout Switzerland in St. Gallen, Geneva, Zurich, Bern, Luzerne, Basel, Lugano, Liechtenstein including three months in Paris, France.
Johnson says, playing with Donaldson Lou was like singing with Charlie Parker. He was able to sing all his "BIRD" lyrics while Donaldson would play along while he sang the solo's note for note. Being on stage with Lou Donaldson was one of the greatest feelings you could imagine. They first met in 1975 at the Pigfoot Jazz Club located in Washington DC when Donaldson dropped by to see longtime freind and pianist John Malachi. It was there where they both met and played together on "NOW"S THE TIME". Whenever George shows up at his concerts unannounced, Lou doesn't hesitate to bring him up to sing.


In 2003, George V Johnson Jr. was commissioned by Don Sickler of Second Floor Music to pen lyrics to the music of jazz legend and saxophonist, Hank Mobley. Since taking on the project Johnson has skillfully, completed over 40 of Mobley's classic compositions and still counting. Some with complete solo's. Critics are already saying this is one of the most important and extensive projects to be presented to the public from the jazz vocalese realm in many, many years. With Jazz Vocalese, still in a state of infancy, Johnson has almost single handedly kept the vocalese dream alive as exemplified from his performances presenting the Music of Hank Mobley. A feat unmatched by any of his peers in jazz music. His lyrics are well rounded, beautifully written and a classic work of art. In the spirit of Eddie Jefferson, Johnson's a modern day "GRIO" telling stories our ancestors would be very proud of ...a la...Langston Hughes
Hank Mobley recorded many of his classic compositions on the Blue Note label featuring some of the greatest names in jazz. Mobley composed over 100 songs that are becoming jazz classics and every musicians dream. Johnson's soulful style and earthly lyrics to this great composers work establishes new dimensions in Jazz Vocalese. The voice accented with skillful musicians magically connects with the Mobley Spirit. Just imagine! Swinging, stories that take you on a musical voyage. Everyone should experience this. See what the buzz is all about. Join in the fun and bring the music of Hank Mobley to your city today. It's Jazzically wonderful.
Hank's Symphony, Soul Station, Dig Dis, No Room For Squares, East of The Village, This I Dig of You, Take Your Pick, Three Way Split, Split Feelings, Up A Step, Work Out, The Baptist Beat, My Groove Your Move, Soft Impressions, Hank's Waltz, Chain Reaction, Roll Call, Syrup & Biscuits, Snappin Out, Comin' Back, The Feelings Good, Uh Huh, Up Over and Out, Looking East, Cute N' Pretty, Third Time Around, Bossa For Baby, Ballin, Madeline, No More Goodbyes, The Break Through, Hank's Other Bag, Infra Rae, Straight NoFilter, Caddy for Daddy, The Morning After. . . and more.
As a leader George V Johnson has appeared at BET On Jazz, Twins Lounge, Twins Jazz, Utophia, Left Bank Jazz Society, Takoma Station, Westminster Church Jazz Series, Channel Inn, Smithsonian Institute, Blues Alley, East Coast Jazz Festivals, Kansas City, JazzInn in Albuquerque, Sante Fe, Taos, Arizona, LA Music Awards, Orange Co College, CA, Hartford CT, Detroit, Springfield Arts Festival, REDBONE Jazz & Blues Cafe, Kingston Jamaica, Ocho Rios Jazz Festival, Natalie's, Ogontz Grill, Zanzibar Blue, & Gloria's Seafood Cafe in Phila, Pa., Delaware, Yonkers Waterfront Pier, Borders Books, Va., John & Peters, Joe's Mill Hill Saloon,Trenton War Memorial, Urban Word, Mill Playhouse, Sugar Hill Cafe, St Nicks Pub & Lenox Lounge in Historic Harlem, w/Lou Donaldson at Charlie Parker Jazz Festivals, Jazz Mobiles & the Village Vanguard, Larry Ridley & the Jazz Legacy Ensemble at the IAJE 2000 Convention in New Orleans w/concert in the Super Dome. They also played Jazz Mobiles, Brooklyn Jazz Festival Tribute to Freddie Hubbard at Up Over Jazz Cafe and Concerts at the Schomberg in NYC. Hank Mobley Jazz Festival 2003 at Jazz Standard, 1st Ammal Trenton Jazz Summit, 1st Annual Baltimore Jazz Summit 2003, March 2002- The 2nd International Artist Conclave Jerusalem, "God Bless the Child" Film Documentary in Solidarity with all Children in Conflict. A 7-day tour of Israel with 15-yr. former "Tonight Show" Saxophonist & Educator Arnie Lawrence, Co- Founder of the New School in NYC. Arnies Band of Angels consist of Jews, Palestinians, Arabs & Americans: Appearing at Arnie's Jazz Ness Cafe, YMCA Hall, Mt. Meirom (Overlooking the Sea of Galilee), The Galil, Hemdat Yamin, Haifa, Mt Olive, Televiv at Snyder's" Children Hospital w/center court concert for children in kidney dialysis ward. 2009 Israel International Super Jazz Festival Ashdod. George V Johnson was bestowed the name "PRINCE OF PEACE" for his Contributions & Courage while touring Israel. It was truly a blessing to have stayed at the Mt Zion Hotel, only a few blocks from the Holy City of David and King Solomon's Temple. I vigorously, explored paths where Jesus Christ & his Disciples traveled and at the Wailing Wall. I prayed daily for World Peace. Amen! Your Majesty, George V Johnson, Jr., Next In Line!


Over 40 years of on stage experience: Johnson has also had the opportunity to play with John Malachi, Lou Donaldson, Fukushi Tianaka, Dr. Lonnie Smith, Buck Hill, Shirley Horn, Dizzy Gillespie, David 'Fathead' Newman, Larry Brown Qunitet, Tina "Pratt SIRAJ, Barry Harris Jazz Choir, John Hicks, Art Davis, Billy Higgins, Danny Moore, Roy Brooks & the Artistic Truth, Miriam Haden, Kenny Cox, Claude Black, Lonnie Plaxico, Donald Walden, Marc Copeland, Keter Betts, Rufus Ried, Max Roach, Philly Joe Jones, Bootsie Barnes, Tony Williams, Richie Cole, Zoot Simms, Billy Mitchell, Al Cohn, Slam Stewart, Harold Maybern, Kurt Lightsey, Amold Sterling, Rueben Brown, Marshall Hawkins, Peter Elderman, Bernard Sweetney, Greg Holloway, Kenny Barron, Kurt Stewart, Mulgrew Miller, George Coleman, Frank Foster, Danny Mixon, Woody Shaw, 'C' Sharp, Walter Booker, Jimmy Cobb, Jamil Nasser, Herm Hopkins, Todd Coolman, Greg Bandy, Richard Wyans, Walter Bishop, Teddy Smith and Adnam Barakat. Other hits included: Don Sickler, Victor Lewis, Ray Drummond, Frank Wess, Seamus Blake ,Eric Alexander, & Don Braden, Bobby Watson, Jimmy Wormworth. Ben Riley, Jed Levy, Billy Hart, Michael Carvin, Buster William, Leroy Williams, Calvin Hill, Tommy Turrentine, Charles Davis, Peter Ahmal, Sharon Shaheen, Byron Landham, Vince Evans, Vince Smith, DeAndre Howard, Darius Scott, Harry Appelman, Ehpriam Wolwolk, Michael Thomas, Aisha Kahlil, Ray Mabalot, Bill Saxton, Tommy Gryce, Clifford Adams, Tom Passarella, Gay Pearson, Bob Smith, Cedric Jensen, James Stewart, Bill Lacey, Bernard Samuel, Reggie Curry, Tony Wyatt, Marion Salaam, Monette Suddler, Tony Williams, Sid Simmons, Eddie Greene, Clifford Jordan, Harold Vick, Patients Higgins, Evelyn Blakey, Steve Williams, Eric Alexander, David Murray, Clearance Seay, Raymond Angry, Lenny Robinson, Fred Foss, James King, Michael Bowie, Byard Lancaster, Geri Allen, Bernard Samuel, Wallace Roney, Eric Alley, Chuck Royal, Nasar Abeday, Ronnie Mathews, Butch Reid, Mickey Tucker, Trudy Pitts, Byard Lancaster, Mr. C, Alfie Pollit, Denise King, Doug Lawrence, Jerry Jensen and a host of others. As you can George V Johnson Jr has shared the stage with some of the greatest names in Jazz. On occasions you can catch George with Lou Donaldson at 1he Village Vanguard. Audiences are in awe when they sing and play "Charlie Parker" songs note for note!